Just Wax It
JUST WAX IT is conveniently located on route 9 in West Creek New Jersey
Our services include eyebrows, lips, chin, underarm, legs, Bikini, Brazilian, feet and toes, Navel Hair, Back and Chest Hair and Nose Hair too.
We also do the All New Vajazzling.
Need your nails done, no problem we do that to. So give us a call today
Give us a call at 609 713 4733
Thanks for Visiting Just Wax It
Video done by Web 2.0 Promotions
6093844881
Nicole has been a licensed professional in the cosmetology industry for more than 18 years.
Her passion for the craft in which she practices shines through in each and every client she touches.
As a sole proprietor/new business owner her goal is to provide each client with an uplifting feeling
about themselves in the manner of which they look and feel inside and out.
It has become her mission to provide a unique beauty experience to each customer that graces her shop.
Hours

Tue – Thu: 10:00 am – 6:00 pm

Fri: 10:00 am – 6:00 pm

Sat: 10:00 am – 3:00 pm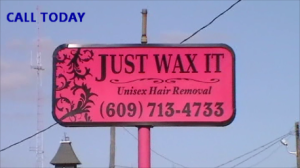 VISIT OUR WEBSITE
Related articles across the web